IT'S OFFICIAL: Franklin Zoo are confirmed to play at Spot Festival and we're crazy excited to receive this honor. The festival combines business and pleasure for the music industry, and it's considered a huge opportunity for a lot of bands every year.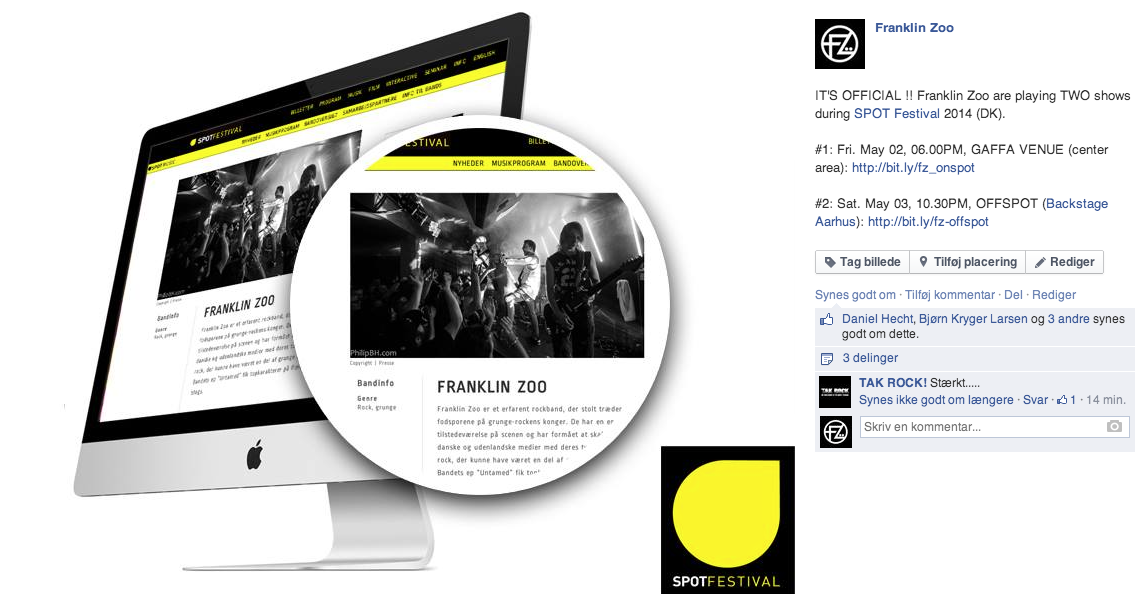 Franklin Zoo are playing two gigs: One official and one off-festival. The dates are: 
FRIDAY, MAY 01
06.45 PM: GAFFA VENUE, SPOT ROYAL (Main outside-area of the festival, near 'Musikhuset')
SATURDAY, MAY 02
10.30 PM: OFF-SPOT SHOWCASE, Backstage Aarhus (Mejlgade 53)

ABOUT SPOT FESTIVAL
The SPOT festival is supported and sustained by a very large section of Danish music in rock, pop and related genres.
The SPOT Festival has 4 main goals:
To focus primarily on the newer Danish and Nordic music production
To bridge the gap between artistic ambitions and the commercial potential of the music
To support and further the cultural qualities of the music
To contribute in developing international networks through exchange of concerts and cultural and commercial experience.
The ambition of the SPOT Festival is to create a promotion platform for the Danish and Nordic music. The festival's repertoire is dictated chiefly by the will to support new bands and artists that are of a quality to succeed internationally.
The line-up comprises both debutants as well as more established artists who are recognized as being of interest to either national or international music promoters, cultural institutions or media.